Laundry Pekanbaru
Laundry Service in Pekanbaru
aQualis Pekanbaru is the best laundry service in Pekanbaru that offers unit laundry and express laundry services. aQualis Fabricare does not only exist in Jabodetabek, but also in other cities, one of which is Pekanbaru.
As a laundry service that has 20 years of experience and has 70 outlets in 19 cities in Indonesia, aQualis understands that the people of Pekanbaru really need a laundry service that provides the best service.
Pekanbaru laundry service from aQualis is the best solution to solve the problem of dirty clothes. We can help take special care of your clothes with natural washing products that are effective at cleaning stubborn stains and still protecting clothes from damage.
We use 10 natural products consisting of antibacterial guard, bio detergency, bio stain removal™, brite white, color care, green dry cleaning, wool & silk care, green chemical (100% natural laundry & wet cleaning), green softener™ and moisture control™. With these products, it not only cleans stains from fabric fibers, but is also environmentally friendly and also avoids irritation to the skin.
To produce clean laundry, we depend not only on the natural products we use, but also on technology and a team of experienced professionals. In the washing process, our team carries out established procedures so as to produce clean, neat, fragrant laundry and the customer's clothes will not be mixed or even lost.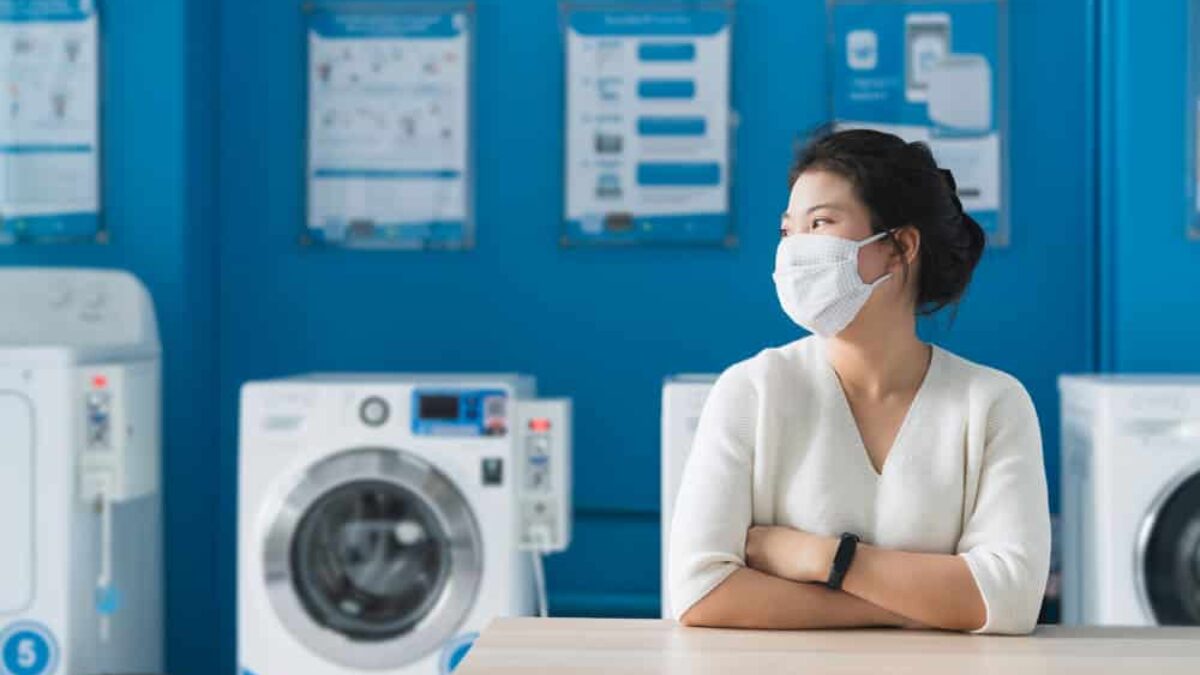 What Kinds of Goods Does Pekanbaru Laundry Service Accept?
Maybe you are wondering, what types of goods does aQualis Pekanbaru serve? In addition to serving clothes laundry, we also accept laundry for several items such as the following:
1. Laundry Unit
Our laundry service provides wet cleaning and green dry cleaning for women's and men's clothing units. The types of unit clothing that we receive consist of shirts, suits, jackets, trousers, uniforms, socks, semi-leather jacket coats, blouses, women's suits, long dresses, kebaya, wedding dresses and many more. For the price we offer, of course, it depends on the type of clothes you want to wash. Please contact our team to find out the type of clothes you will wash.
2. Laundry Unit Bag
aQualis laundry service accepts unit bag laundry, such as mukena bags, leather bags, regular bags and luggage bags. You don't need to worry because the bag washing process is carried out with modern technology that will not damage your favorite bag. We make sure that every item that our customers entrust to us is very well taken care of.
3. Laundry Unit for Bed Sheets, Blankets and Bed Covers
Washing bed covers, sheets and blankets requires a lot of energy because these types of items are very thick. It would be better if you leave these items to us, because we are experts in washing bed covers, bed linen, blankets, towels and other thick fabrics.
4. Laundry Unit Pillowcases and Dolls
Pillows and dolls also need to be washed thoroughly so that they are comfortable to use when accompanying your little one to play and sleep well. We also serve laundry units for pillows and dolls with a safe, clean, and stain-free washing process. We make sure your pillow doesn't clump, and your doll's color remains bright after the washing process.
5. Laundry Unit for Baby Mattresses, Baby Strollers and Baby Car Seats
Baby equipment such as mattresses, baby strollers and baby car seats are also mandatory in the laundry so that babies stay comfortable and avoid germs that stick to baby equipment that can irritate your baby's skin. Pekanbaru laundry services serve unit laundry for baby equipment with the use of natural washing products so that it is safe for the health of your baby's skin.
6. Laundry Unit, Leather Jackets
So that the leather jacket is clean and does not become a nest of germs, it must be washed regularly. If it is stored in the closet for too long, the leather jacket will easily get moldy and become brittle / weathered. As a result, you will feel uncomfortable when wearing it. With our special Bee's Wax and Lotion, you can make your leather jacket feel better than new.
To use the Pekanbaru laundry service, please contact us via WA or come to our outlet aQualis Pekanbaru Jl. Gatot Subroto No. 57 D - E, Pekanbaru, Riau, Sumatra Tel: 0761854073, WA: 085216741216.