Laundry Tangerang Selatan
Laundry Services in South Tangerang
If you live in South Tangerang and don't have time to deliver your dirty laundry to the laundry, then you can use the aQualis Fabricare service. We provide shuttle laundry services for the South Tangerang area, so you no longer need to come directly to our outlet.
Nowadays, anything is made practical, easy and fast, as well as laundry services. aQualis Fabricare is designed to make it easy for customers to enjoy practical and fast laundry services. We launched a shuttle laundry service that can help save your time and energy.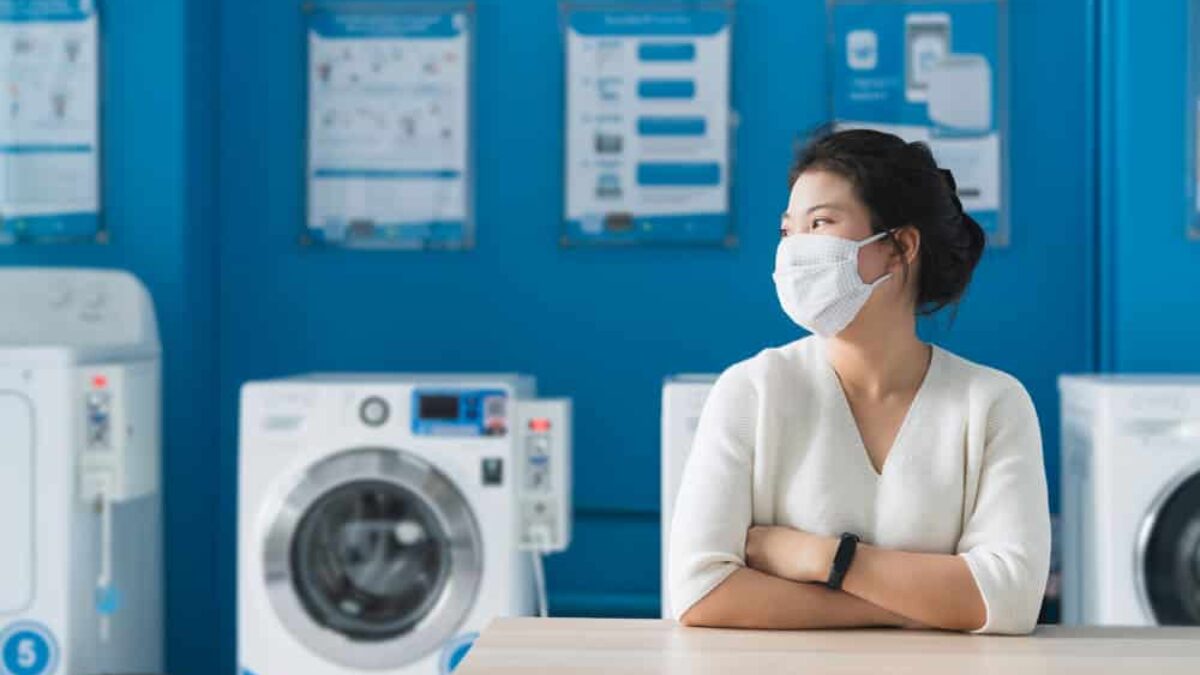 Reasons for Choosing South Tangerang Laundry Services from aQualis Fabricare
In today's fast-paced world, washing clothes is one of the hardest tasks to do. However, there's no need to worry because you can use the aQualis Fabricare laundry service for your dirty laundry. For those of you who live in South Tangerang, you must know the benefits of using laundry services from aQualis Fabricare. Here are some of the benefits of using our South Tangerang laundry services:
1. Using High Quality Product Materials
As experienced laundry services, we understand how to take care of the clothes you entrust to us. We know very well that different textile products, such as clothes, towels and curtains, are made of different fabrics which may require different or special cleaning methods.
There are also various types of stains that cannot be removed safely at home without potentially damaging the fabric. Machine wash or hand wash are not always the best way to clean stains on certain types of fabrics.
For example, very delicate fabrics, such as silk, wool, linen, or even velvet, can warp, shrink, and even fade when cleaned in a regular washing machine or by hand. For this type of fabric, green dry cleaning is the best choice.
We really understand the importance of using different cleaning methods. We not only clean the stains on your clothes, but also provide maintenance. We only use high quality products to clean stains and make them look and feel new again.
Here are 10 products we use to clean and care for every piece of fabric and clothing:
Antibacterial Guard
Green Dry Cleaning
ColorCare
Wool & Silk Care
Bio Detergency
BioStain Removal™
BriteWhite,
Green Softener™
Green Chemical (Laundry & Wet Cleaning 100% Natural)
Moisture Control™
2. There is a shuttle laundry service available
The advantage of using our laundry service is that there is a shuttle service available for the South Tangerang area. We will pick up and deliver your clothes in a timely manner. In terms of saving time, this is probably the biggest advantage of using our laundry services.
Actually washing clothes is not a big deal, it is a whole process that takes a lot of time. Including separating the laundry, ironing and folding it neatly. But by using the aQualis Fabricare laundry service, all of these tasks can be done.
aQualis shuttle laundry service covers the Jabodetabek area and the Surabaya area. We have 70 outlets spread across various cities in Indonesia. Pick-up service is our commitment to always provide quality laundry services that will satisfy every customer.
3. Faster Washing Process
We really prioritize customer satisfaction so that you present a laundry service that provides fast service. Once picked up, you can expect your clothes to be returned in no time.
We have modern washing machines that can wash and dry in a short time. In addition, in every washing process we apply AntibacterialGuard™ as our commitment to always provide the best quality washing for each customer.
AntibacterialGuard™ is now refined with the latest innovations and technologies which are certainly more effective in providing protection against bacteria and fungi for fabric and are also safe for the quality of fabric fibers and skin and human health.
Our laundry service is easy to access, because we have a service hotline that you can call at any time for pick-up and drop-off laundry. With this service, we will deliver your laundry on time. Even people can enjoy our laundry services without having to leave the house.
Simply by contacting us via WA or clicking on the shuttle menu on our website, then you are already connected to our shuttle laundry service. We pick up your dirty laundry and return it clean and on time.
4. Satisfying Laundry Results
Of course there are advantages to having your laundry done by a professional. From technique to technology, our laundry service company has the experience and knowledge to care for your clothes so they look like new.
In addition to the washing process, our laundry service will also ensure that your laundry is properly separated beforehand and properly folded or hung afterwards. Using our laundry service ensures that every garment is cleaned properly.
By using our laundry service, clothes are guaranteed to be clean, fragrant and hygienic. We have a detailed washing process to ensure clothes return in better condition. Our team follows care label instructions, which you probably wouldn't do if you washed it yourself.
5. There are 4 Outlets in South Tangerang
Using our laundry service is the right choice to make dirty laundry clean, fragrant and of course provide maximum protection against germs and bacteria. We are always happy to serve laundry whether it's clothes, curtains, blankets, bed covers, even baby equipment.
With the shuttle service, this will save a lot of your time. We will also pick up and deliver the items that have been washed to your residence. So that you can spend as much time as possible doing the things you love.
In addition to providing shuttle laundry services for the South Tangerang and Jabodetabek areas, aQualis also provides visits to our outlets which are widely spread in the South Tangerang Area. Here are some of our outlets located in Tangerang:
1. aQualis Cirendeu
Jl. Cirendeu Raya No. 69C, South Tangerang. WA: 081212630908
2. Aqualis Pamulang
Jl. Pamulang Raya Block E/15 C, Pamulang, South Tangerang. WA: 085100361588
3. aQualis BSD
Jl. Lieutenant Sutopo B2/35, BSD, South Tangerang. WA: 081314806660
To use the shuttle laundry service from South Tangerang laundry service aQualis Fabricare, just contact us directly via WA 0813 8197 2469. Or you can directly order the shuttle laundry service via the shuttle menu on our website.
The method is very easy, that is, just fill in the form on our website such as name, address, cellphone number, email and also the date of collection. After we receive the order form, our team will schedule the laundry to be picked up at your address.