Laundry Antar Jemput di Gading Serpong
The Best Shuttle Laundry in Gading Serpong
For those of you who are looking for shuttle laundry services in Gading Serpong, you can contact aQualis Fabricare. Busy work schedules make everyone lazy to do other activities, even to wash their own clothes. As a result you need a laundry service that provides a shuttle service.
aQualis Fabricare is committed to providing the best service for your laundry needs. We don't only focus on the cleanliness of clothes, but also on the quality of clothes. We apply Antibacterial Guard™ for every washing process. So get your clothes clean and hygienic in no time.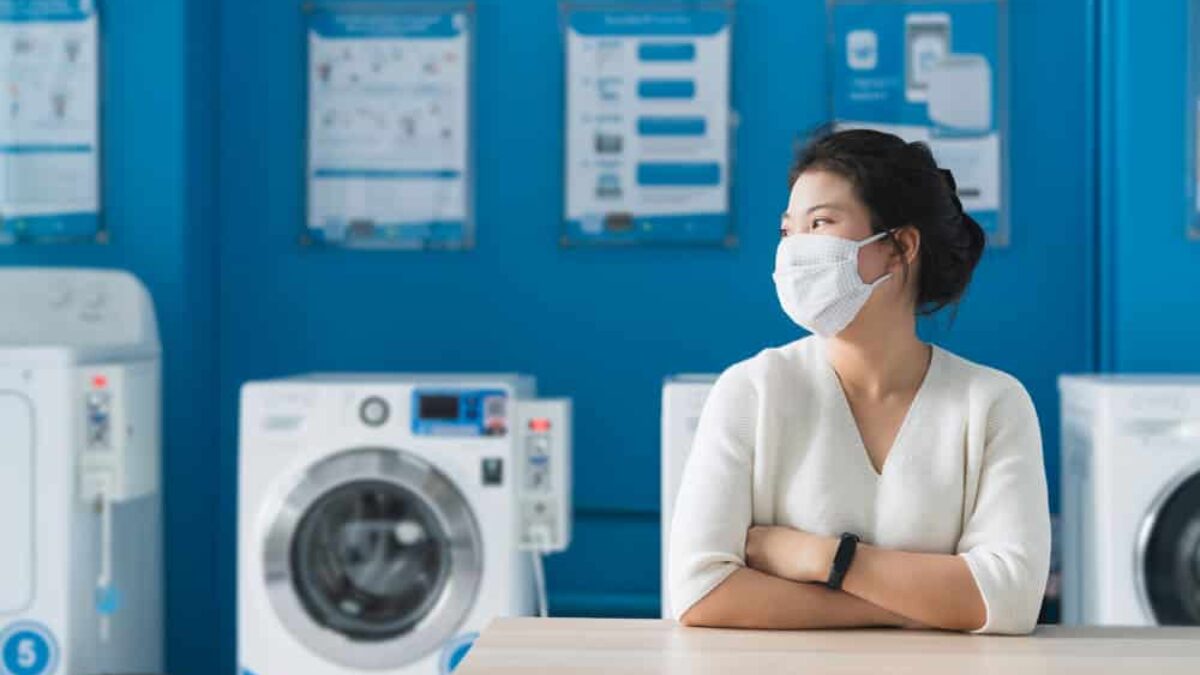 Advantages of Using aQualis Fabricare Shuttle Laundry Service
Everyone has their own reasons for using a laundry service. However, they agree that using aQualis Fabricare laundry services can provide many benefits. Here are some advantages of using the Gading Serpong shuttle laundry service from aQualis Fabricare:
1. Cleaner clothes
AQualis Fabricare Gading Serpong shuttle laundry service has the latest technology and equipment to deep clean your clothes. Your clothes will be cleaner, softer, and more vibrant in color. We also have a great way to kill bacteria and germs that may be stuck on your clothes, by applying Antibacterial Guard™ to each of our washing processes.
You can trust that your clothes have been thoroughly cleaned. One of the main reasons people use our laundry services is because of our ability to remove stains, odors and provide thorough care for clothes.
If your clothes have stubborn stains that you can't remove yourself, don't try to use stronger chemicals to avoid damaging the clothes. You can use our laundry service to solve the problem you are facing. You will be satisfied with how clean your clothes are when we bring them back to you.
2. Free shuttle
We offer shuttle laundry services for the Jabodetabek area. So, you don't need to bother coming to our outlet, especially if you are very busy. Just collect your laundry at home and call us to pick it up. Our service is amazing isn't it? Now you can use your time more productively for other tasks.
We provide free pick-up and delivery for your laundry in the Gading Serpong area. This can save a lot of time and hassle of having to go to our outlets. We're sure you'll love this convenience because it means you don't have to spend time and gas dropping off and picking up your washed clothes.
Simply schedule your pick-up online and we'll pick up your dirty laundry from your home, eliminating the need to leave your house to get your dirty laundry done.
3. High Quality Products
To care for every piece of your clothes, we use the highest quality products. We make sure that all the products we use are environmentally friendly and effective in removing stains and providing care for your clothes. We understand that there are many people with sensitive skin, allergies or reactions to certain chemicals that are often used in detergents and fabric softeners.
That's why we use products that are not only safe for the environment, but also safe for your health. Of the 10 products we use, such as Antibacterial Guard, Green Dry Cleaning, Color Care, Wool & Silk Care, Bio Detergency, BioStain Removal™, BriteWhite, Green Softener™, Green Chemical (Laundry & Wet Cleaning 100% Natural) and Moisture Control™ .
We make sure that the ingredients are natural so that they cause minimal allergies. So you don't need to worry because we make sure the products we use are very safe for your skin and are certainly effective in cleaning clothes from stains and providing better care.
4. Faster Laundry Process
Leave your laundry to us and we'll wash, dry, and hang or fold, iron your clothes in no time. If you want us to collect it, use our shuttle laundry service and we will return it directly to your home. And we will drop her back after clean clothes to your house.
We use modern washers and dryers to get your laundry done faster and more efficiently than the machines you use at home. We can also handle your laundry within 24 hours depending on the service you choose.
You don't have to leave the house to handle your laundry. In the modern world, we provide shuttle laundry services. With Laundry shuttle service, you will enjoy a convenient solution. All of our services are available on our website. You can save a lot of time on dirty laundry when you use our pick up and drop off laundry service.
5. Satisfying Results
If you use our laundry service to handle your laundry, rest assured that your laundry will be returned to you in a clean and well-maintained condition. We are experienced laundry services and specialize in a variety of techniques and processes that will ensure that your clothes are not only cleaned, but also cared for so that the fibers of the material last longer.
Our laundry services will handle each type of fabric separately, so as not to damage the clothes. Our high-quality equipment will give you quality results that you cannot get from household washers and dryers.
If you want to use the Gading Serpong shuttle laundry service from aQualis Fabricare, don't hesitate to contact us. We are ready to pick up your dirty clothes and return them after they have been thoroughly washed.
Please contact us to enjoy the best shuttle laundry service in Gading Serpong. You can chat via WA 0813 81972469 or you can directly on our website by clicking the shuttle menu, then writing your name, cellphone number, email, address, city and fill in the pick-up date.