Laundry Alam Sutera
Laundry Services at Alam Sutera
If you are looking for an Alam Sutera laundry service that provides pick-up and drop-off services, then aQualis Fabricare is the right choice. You can save time, because you can simply contact us online and we are ready to pick up your dirty clothes at home and deliver them back after they are clean.
The results of aQualis laundry have been clinically tested, having a hygienic microbial level below 20 cfu/10x10cm2 which meets the requirements of hospital sanitation standards. This test was carried out by the Jakarta Health Laboratory Agency belonging to the Ministry of Health of the Republic of Indonesia which refers to Permenkes No. 7 of 2019 and USPI Standards 61 and USP 62 which are standards from the United States by examining the presence of germs such as bacteria, fungi and other microorganisms for the hygienic quality of a product and service.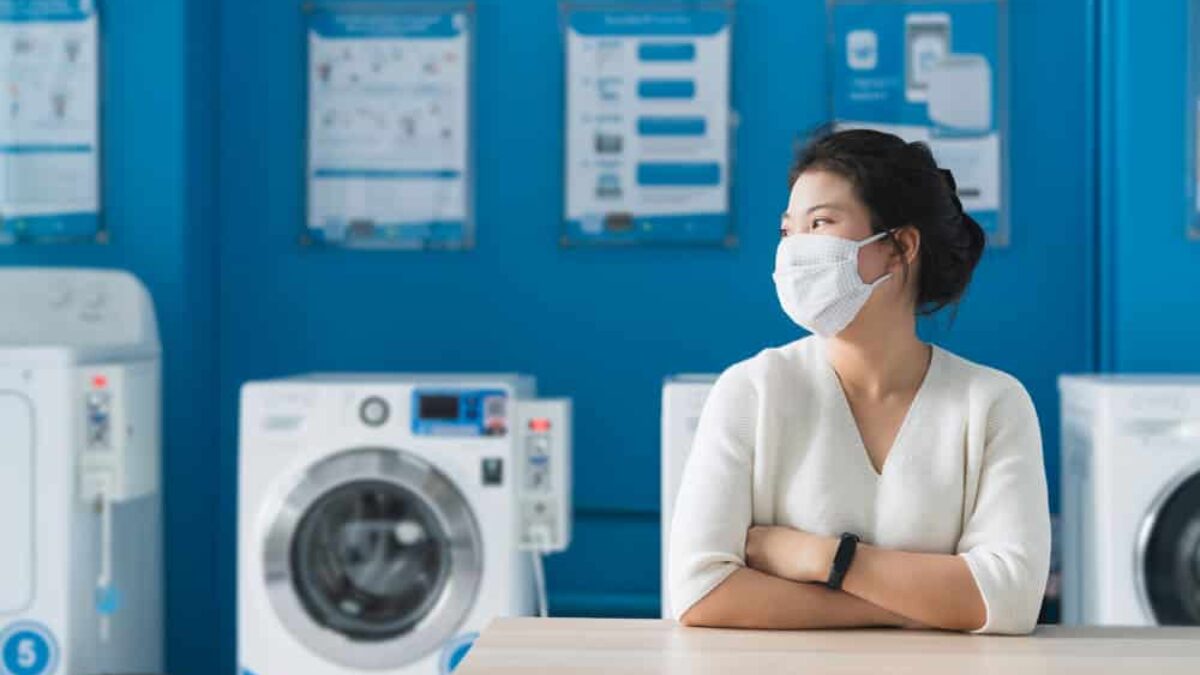 Reasons for Choosing Alam Sutera Laundry Services from aQualis Fabricare
Doing the laundry is a physically taxing activity that most people would like to skip. If not washed immediately, it will accumulate and will definitely cause a musty smell. Doing the laundry may be your least favorite chore, but it's worth doing.
However, you don't have to do it yourself. If you are in Alam Sutera, you can now hand over this responsibility to the Alam Sutera laundry service from aQualis Fabricare. Following are the benefits of using Alam Sutera laundry services from aQualis Fabricare:
1. Laundry Wet Clean and Green Dry Clean
As an experienced laundry company, we provide a complete laundry service, starting from wet cleaning and green dry cleaning. This makes it easy for those of you who want to enjoy your precious time.
For special clothing care, you can choose a green dry clean service for your favorite clothes, because each garment requires different treatment. Clothing that requires special care, for example, made from silk, wool, shall and kebaya.
Let our team take care of all your laundry needs. So you don't need to worry about the stains on your clothes, because we will remove them without damaging your clothes. Our Alam Sutera laundry service provides the best results in the shortest time, so you only need to wait a little.
2. Laundry Free Shuttle
We really understand that your time is very valuable, therefore, our laundry service provides a free shuttle service that applies to Jabodetabek and Surabaya. This means that for the Alam Sutera area you can use our shuttle laundry service.
To use our shuttle laundry service, all you have to do is prepare your clothes or other items and contact us immediately either via WA chat or telephone. After that, our team will come to pick up your dirty clothes and return them after the clothes are clean.
3. Satisfying Laundry Results
Our techniques and processes ensure that your clothes are cleaned gently, yet efficiently, so that they are returned to you in their best condition. Our highly trained team uses state-of-the-art equipment and eco-friendly products to deliver quality results that you cannot get from a washer and dryer at home.
As a professional Alam Sutera laundry service, we have techniques and processes that ensure that clothes are treated gently but cleaned effectively. We make sure the results of the laundry we provide are satisfactory. With our laundry service, your clothes will be well cared for because we only use products that are safe for fabric fibers and provide extra care.
4. Faster Laundry Process
aQualis Fabricare laundry services use modern washing machines that will clean and dry your clothes perfectly in no time. Supported by an experienced team so that the washing process is faster but the results are satisfying. We can also pick up your laundry and return it to you in a short time and on time.
This is the most obvious reason to use our laundry service which is to save your time. Think about how much time it will take you to wash yourself, maybe at least an hour, and take longer if you wash all the clothes of your family members.
But by using our laundry service we can free up that time. You only need to contact us if you want to use the shuttle laundry service. The advantage of using our laundry service is that it also helps you not to waste your time just washing dirty clothes. Saving time means saving a lot of stress, and maybe even money.
5. Really understand how to take care of clothes
Maybe you've tried removing stubborn stains or odors without commercial-grade cleaners and equipment and maybe it wasn't as easy as you thought. Our Alam Sutera laundry service safely removes stains and odors from your clothes, leaving them fresher than before and definitely well looked after.
If you wash your own clothes, you may end up using too much or too little detergent. By doing so, you can spoil your clothes more quickly or not as cleanly as they should and waste your effort.
But with our laundry services we can help you keep your clothes in good condition, we only use eco-friendly products that are effective in removing stains and providing the best care for your clothes.
6. Experienced Laundry Services
aQualis Fabricare is a laundry service that has decades of experience. The first generation of our family has been in the laundry industry since 1952. And we, as the second generation, founded aQualis Fabricare in 2003 with our first outlet in Tebet Raya, South Jakarta.
Until now we have more than 70 outlets spread across Indonesia. We provide a shuttle laundry service for the Jabodetabek area which will make it easier for you to use our laundry service. Our outlets are also spread across the South Tangerang area. The following is a list of our outlets in South Tangerang:
1. aQualis BSD
Jl. Lieutenant Sutopo B2/35, BSD, South Tangerang
Tel: 021 53160308 | WA: 081314806660
2. aQualis Bintaro Sector 5
Jl. Bintaro 5 Utama Block EA 2/1, South Tangerang
WA: 081294256717
3. Aqualis Cirendeu
Jl. Cirendeu Raya No. 69C, South Tangerang
WA: 081212630908
4. Aqualis Pamulang
Jl. Pamulang Raya Block E/15 C, Pamulang, South Tangerang
WA: 085100361588
By using the aQualis Fabricare laundry service, you can enjoy free time with your family. We are ready to take laundry duties off the hands of customers. All you have to do is contact us, so you can breathe easy knowing that your laundry is in good hands.
For those of you who are in Alam Sutera, please contact us immediately to use the best laundry services from aQualis Fabricare. Please contact us via WA 081381972469 or via our website. Just fill in your name, your mobile number, email, address, city and select the pick-up date, it's very easy right?